This is a cake for serious chocolate-lovers – rich, chocolate cake layers, filled with dark chocolate fudge frosting, are slathered in chocolate cream cheese buttercream and topped with chunks of brownies, dark chocolate chips, and a chocolate ganache glaze. Consider this your chocolate dream come true!
This cake was made to celebrate my mom's (29th) birthday. It was inspired by the Dark Chocolate Brownie Fudge Cake recipe in the cookbook, "Bobbette & Belle: Classic Recipes from the Celebrated Pastry Shop", by Allyson Bobbitt and Sarah Belle. I did make some alterations and used a chocolate cream cheese buttercream in place of the buttercream they used.
DARK CHOCOLATE BROWNIE FUDGE CAKE
Everything a chocolate-lover could ask for…and more!
PREP TIME: 30 – 40 min
BAKE TIME: 35 – 40 min
TOTAL TIME: 1 hr 30 min

YIELDS: One 9″ three-layer cake
SERVES: 12-16

---
INGREDIENTS
CAKE
3 eggs, room temperature
1 1/2 c sour milk or buttermilk, room temperature
1 1/2 c hot brewed coffee*
3/4 c vegetable oil
1 1/2 tsp vanilla extract
3 c flour
3 c sugar
1/2 c cocoa powder
1 Tbsp baking soda
1 1/2 tsp each baking powder and salt
DARK CHOCOLATE FUDGE FROSTING
2 1/4 c icing sugar, sifted
3/4 c cocoa powder
Pinch of salt
1/2 c butter, softened
1 c milk
CHOCOLATE CREAM CHEESE BUTTERCREAM
1 c butter
1/2 brick cream cheese
1/2 c cocoa powder
3-4 c icing sugar
2 tsp vanilla extract
Milk
CHOCOLATE GANACHE GLAZE
1 1/4 c dark chocolate, chopped
2/3 c butter
1 1/4 tsp corn syrup
1/2 tsp vanilla extract
CHOCOLATE BROWNIE TOPPING
Use this recipe, make your favourite brownies, or use store-bought brownies
INSTRUCTIONS
CAKE: Preheat oven to 350°F. Grease three 9″ round cake pans and line bottoms with parchment paper or lightly flour.
In a medium bowl, whisk together eggs, buttermilk/sour milk, hot coffee*, vegetable oil, and vanilla.
Combine flour, sugar, cocoa powder, baking soda, baking powder, and salt in a large bowl and whisk together. Add wet ingredients to dry ingredients and whisk until incorporated. Beat batter on medium-low speed, 2 minutes, until well combined and smooth. (Do not overmix batter by beating on high speed.) Divide batter evenly among pans.
Bake for 35 to 40 minutes, or until a toothpick inserted into the centre comes out clean. For even baking, rotate pans front to back halfway through. Allow to cool in pans for 10 minutes before turning onto a rack to cool completely.
ASSEMBLE: Fill the cooled cakes with Fudge Frosting. Mask the outside of cake with Chocolate Cream Cheese Buttercream. Chill cake in fridge 20-30 minutes; pour most of the Chocolate Ganache Glaze on the centre top; gently spread glaze to the edges with a spatula until it begins to seep over the edges of the cake. Garnish the top with brownie chunks and dark chocolate chips; drizzle the top with remaining glaze. Serve at room temperature.

FROSTINGS & GARNISHES INSTRUCTIONS
DARK CHOCOLATE FUDGE FROSTING
In a medium bowl, whisk together the icing sugar, cocoa powder, and salt.
Cream the butter on medium-high speed until light and fluffy, about 3 minutes. On medium-low speed, alternately add the icing sugar mix in 3 additions and the milk in 2 additions, beginning and ending with the icing sugar; beat after each addition until fully incorporated. Increase speed to high and beat for 3 more minutes.
Use immediately or store in airtight container in the fridge up to 1 week.
CHOCOLATE CREAM CHEESE BUTTERCREAM
Cream together butter and cream cheese until smooth.
Whisk together icing sugar and cocoa powder; gradually add about half to butter mixture. Add vanilla. Beat in 1 – 2 tablespoons of milk. Add rest of icing sugar mixture and alternate added milk until the buttercream reaches a thick, spreadable consistency.
CHOCOLATE GANACHE GLAZE
In a medium saucepan, bring an inch or two of water to a simmer.
Combine the chocolate, butter, corn syrup, and vanilla in a large heat-proof bowl and set over the simmering water. Gently and continuously stir until chocolate and butter are melted and glaze is smooth. remove bowl from pot and allow glaze to cool to room temperature.
Use immediately or store in airtight container at room temperature up to 1 week.
* For a smooth glaze, use while it is still warm to touch and runny; for a spreadable frosting-like texture, let thicken and cool fully to room temperature.
NOTES
Make-Ahead: Cake layers can be made 1-2 days in advance (wrap well and keep at room temperature); the frostings and glaze can be made 2-3 days in advance (store in the fridge in airtight containers); assembled cake can be made ahead, covered and stored in the fridge for up to 1 week.
Substitutions: I used sour milk (2 Tbsp + milk to equal 1 1/2 cups) in place of the buttermilk.
Any type of homemade brownie or store-bought variety would work for the brownie garnish.
* In place of "hot coffee", I used 2 Tbsp of Iced Java in 1 1/2 cups of milk.
---
Recipe Adapted By: Katrina Lindhorst
Cake, Fudge Frosting, Chocolate Ganache Glaze, and Brownie Recipe Source: Bobbette & Belle: Classic Recipes from the Celebrate Pastry Shop

Did you make this recipe? Let me know, and feel free to share any thoughts or comments you have – I'd love to hear from you!
BUY THE CAKE TOPPER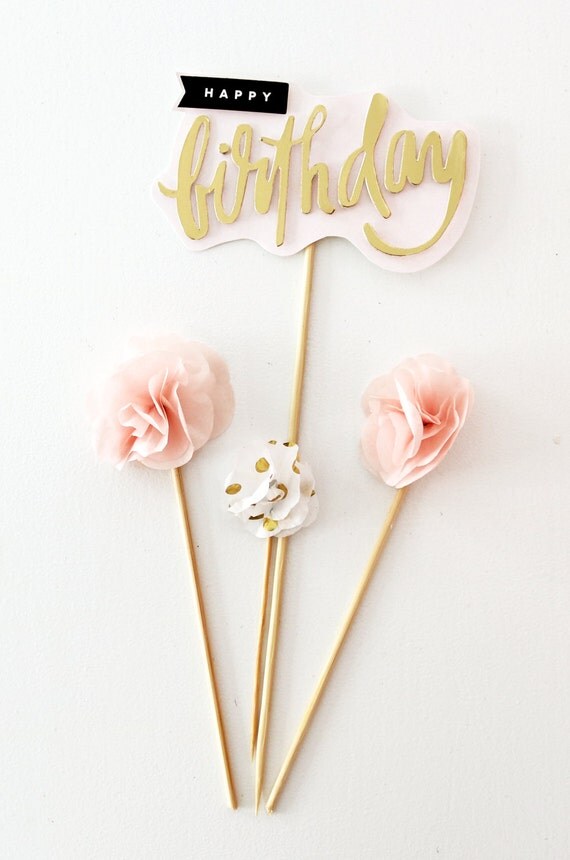 Happy Birthday Cake Topper Set by Hello Paper & Co. on Etsy